Anthony Williams' glittering new production of Legally Blonde the Musical stops at the Theatre Royal, Brighton, as part of an extensive UK tour. Starring The X Factor and Eurovision's Lucie Jones as the iconic, blonde Elle Woods, the Tony and Olivier Award-winning musical was last seen regionally in 2012, featuring Faye Brooks. Now, the dazzling story returns, adapted from Amanda Brown's novel and the popular 2001 romantic comedy, starring Reese Witherspoon.
Legally Blonde tells the story of Elle Woods, a pink-clad sorority sister who has her whole future laid out in front of her. Preparing to be proposed to by her heartthrob boyfriend, Warner Huntington III, Elle is crushed when he actually reveals that he is on the way to Harvard University – without her. Claiming that he needs to get "Serious", Elle decides to get her own kind of serious, enrolling in Harvard to win back her man.
A phenomenal tale of girl-power and believing in yourself, this sensational musical sees Elle go above and beyond, realising that she is "So Much Better" without Warner! With a brilliant score, including smash-hit tunes including "Omigod You Guys", "Bend and Snap" and "Ireland", this sassy story of girl-power and self-love is guaranteed to have you dancing in your seat.
Lucie Jones stars as Elle, after appearing in UK tours of The Wedding Singer and Rent. Further casting includes EastEnders' Rita Simons as Paulette and Emmerdale's Bill Ward as Professor Callahan. Directed and choreographed by Anthony Williams (Hairspray, Little Shop of Horrors), Legally Blonde the Musical plays limited performances at the Brighton venue.
Dates
Monday 11th June 2018 – 7:30pm
Tuesday 12th June 2018 – 7:30pm
Wednesday 13th June 2018 – 2:30pm & 7:30pm
Thursday 14th June 2018 – 7:30pm
Friday 15th June 2018 – 7:30pm
Saturday 16th June 2018 – 2:30pm & 7:30pm
Seating Plan and Ticket Prices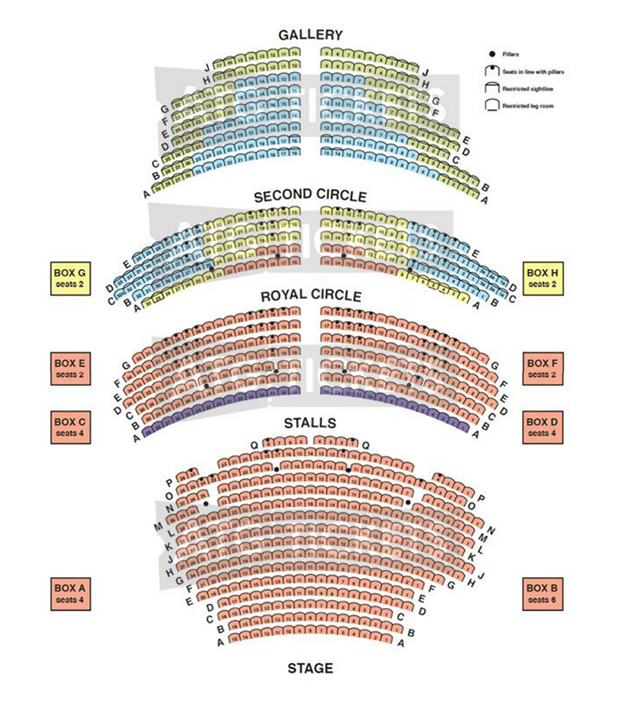 Please note that prices change depending on the date and time of the performance.
| | | | | |
| --- | --- | --- | --- | --- |
| Ticket Price | Stalls | Royal Circle | Second Circle | Gallery |
| £52.00 | Row E seats 5-16 are this price, as they offer the best views in the theatre. Sit here for the most immersive experience. | Not available. | Not available. | Not available. |
| £41.00 – £43.00 | The centre of rows F-H are this price, as they offer the best views in the Stalls. Close enough to see details, a decent rake ensures that you can see the whole stage without any restrictions. | Seats in the centre of rows A-C are this price, as they offer the best views of the section. A decent rake ensures good views with no restrictions. These seats are good options for large-scale musicals. | Not available. | Not available. |
| £36.00 – £37.00 | Most seats in the Stalls fall into this price category, as there are good views throughout. A decent rake ensures you can see past those in front, but sit as centrally as possible for the best overall experience. | The majority of seats in the Royal Circle are this price, in rows A-G. Sit as centrally as possible for the best view, although a decent rake should allow you to see the stage very clearly. | Most seats in the Second Circle are this price. The stage may seem distant, so it is recommended to sit as front and central as possible. | Not available. |
| £31.00 – £33.00 | Seats toward the rear of the Stalls are this price, as they are restricted by large pillars, which block off significant parts of the stage. | Seats at this price are located behind pillars, which can significantly obstruct views. | Row E falls under this price, as it is at the rear of the section and the Gallery overhang may be obstructive. Seats at the ends of rows C-D are this price, as small areas of the stage are not visible. Pillars may also be obstructive. | Not available. |
| £25.00 | Not available. | Not available. | Seats at this price are restricted by pillars directly in front of them, which can significantly obstruct the view. | Most of the seats in the Gallery are this price, as this section is distant from the stage and legroom can be limited. It is recommended to sit as front and central as possible. |
| £15.00 | | | | Seats at this price can be found in Row J and at the sides of rows D-H. These seats are restricted view and restricted legroom. |
Venue Address
Theatre Royal, New Road, Brighton, BN1 1SD
Venue Map