Anthony Williams' dazzling new production of Legally Blonde the Musical continues to wow audiences on a vibrant UK tour, stopping at the UK's biggest venues. Dancing into the Sunderland Empire for a limited week of performances, the Tony and Olivier Award-winning musical stars Lucie Jones as the iconic Elle Woods, who is best-known for her stint on The X Factor and representing the country in the 2017 Eurovision Song Contest, as well as starring in UK tours including Rent and The Wedding Singer.
Legally Blonde the Musical is adapted from Amanda Brown's novel and the classic 2001 rom-com starring Reese Witherspoon, and follows pink-clad sorority girl Elle Woods on a self-discovering journey. Thinking she has her future figured out, she prepares herself for a proposal from hot boyfriend, Warner Huntington III. But when he breaks up with her instead of bending on one knee, she is forced to rally her spirits to win back her man. With an award-winning score that includes smash-hits such as, "Omigod You Guys", "So Much Better" and "Bend and Snap", this mega musical is the ultimate story of girl-power.
Starring alongside Lucie Jones is EastEnders' Rita Simons as Paulette and Emmerdale's Bill Ward as Professor Callahan. Legally Blonde the Musical is directed and choreography by Anthony Williams, who has had previous success with the Little Shop of Horrors and Hairspray UK tours. Now, the glittering production struts into Sunderland Empire, bringing a bucket-load of fun, friendship and bright pink!
Dates
Monday 16th April 2018 – 7:30pm
Tuesday 17th April 2018 – 7:30pm
Wednesday 18th April 2018 – 2:30pm & 7:30pm
Thursday 19th April 2018 – 7:30pm
Friday 20th April 2018 – 7:30pm
Saturday 21st April 2018 – 2:30pm & 7:30pm
Seating Plan and Ticket Prices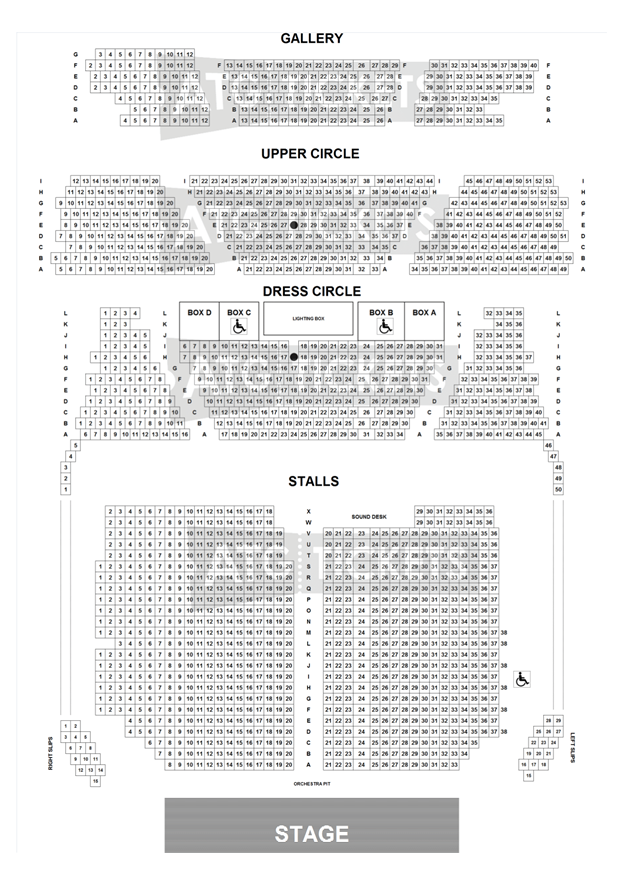 Please note that prices change depending on the date and time of the performance.
| | | | |
| --- | --- | --- | --- |
| Ticket Price | Stalls | Upper Circle | Gallery |
| £51.00 | Very central seats in rows F-H. They are next to the aisle and offer the best and most comfortable views in the theatre. | Not available. | Not available. |
| £41.00 | Centre seats in rows B-E are this price, as they offer the best views in the Stalls. They offer good, panoramic views of the stage without any restrictions. | Not available. | Not available. |
| £36.00 | The majority of the Stalls are this price, in rows A-T. Good views can be achieved in any of these seats, and it is recommended to sit as centrally as possible for the best experience. | Centre seats of rows C-D are this price, as they are the best views in the Upper Circle. There are no restrictions from safety rails, and there is a good overall view of the entire stage. | Not available. |
| £31.00 | Seats in rows G-V are this price, offering mixed views of the stage, depending on how close you are. These are a good option for those looking for a bargain. | Most of the Upper Circle is this price, namely in rows B-F. These seats offer decent central views of the entire stage and are a good option for large-scale musicals. | Not available. |
| £25.00 | Seats at the ends of rows C-S are this price, as minor moments will be restricted from here. Further seats at this price are in rows W-X, as they are toward the rear of the section and can be restricted by the Upper Circle overhang. | Rows G-I are this price, as they are toward the rear of the section and can feel restricted by the Gallery overhang. The stage can also feel distant from here. | Not available. |
| £15.00 | Seats at the ends of rows C-G are this price, as they offer a very restricted view of the stage. Large moments of action may be missed from here. | Row A and seats toward the ends of rows B-G are this price, as safety rails can drastically hinder the view. | Most of the Gallery falls under this price, as this section is distant from the stage and safety rails can significantly hinder the view. |
Venue Address
Sunderland Empire, High Street West, Tyne and Wear, Sunderland SR1 3EX
Venue Map