After a hugely successful 2017 opening at the Churchill Theatre, Anthony Williams' glittering UK tour of Legally Blonde the Musical struts into Regent Theatre. Featuring musical theatre star and previous X Factor contestant Lucie Jones as the iconic Elle Woods, the Tony and Olivier Award-winning musical plays at the Stoke-on-Trent venue for strictly limited performances.
Based on Amanda Brown's original novel and the beloved 2001 romantic comedy starring Reese Witherspoon, Legally Blonde is the classic story of the pink-clad sorority sister turned lawyer. Opening with Elle Woods preparing for a proposal from her boyfriend, Warner Huntington III, it seems this is a girl who has everything she wants. But when Warner informs her that he needs to get "serious" and is going to study at Harvard, her hopes and dreams are dashed.
In order to win back her man, Elle decides to get equally serious and applies to study at Harvard. Once she gets in, she begins to realise that she may be much more intelligent than she – or anyone else – ever knew! A defiant tale that teaches you the importance of friendship and believing in yourself, the musical features a sensational score, including mega-hits "Omigod You Guys", "So Much Better" and "Bend and Snap".
Lucie Jones stars as Elle Woods, opposite EastEnders' Rita Simons as Paulette and Emmerdale's Bill Ward as Professor Callahan. Featuring direction and choreography by Anthony Williams (Little Shop of Horrors and Hairspray UK tours), Legally Blonde the Musical is the girl-power extravaganza that is guaranteed to have you dancing in your seat!
Dates
Monday 12th March 2018 – 7:30pm
Tuesday 13th March 2018 – 7:30pm
Wednesday 14th March 2018 – 2:30pm & 7:30pm
Thursday 15th March 2018 – 7:30pm
Friday 16th March 2018 – 7:30pm
Saturday 17th March 2018 – 2:30pm & 7:30pm
Seating Plan and Ticket Prices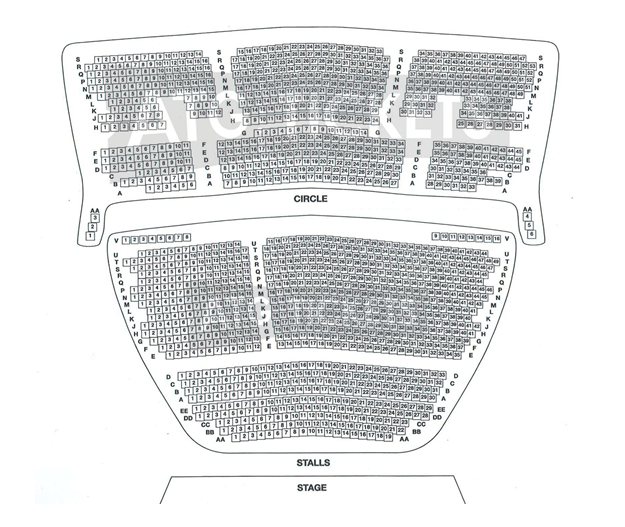 Please note that prices change depending on the date and time of the performance.
| | | |
| --- | --- | --- |
| Ticket Price | Stalls | Circle |
| £51.00 | Centre seats of rows E-F are this price, as they offer the best overall views in the theatre. Rows DD-EE are also this price, as they are close to the stage and offer brilliant, close-up views. | Not available. |
| £41.00 | Rows D-H are this price, as they are perfectly central in the Stalls and offer the best views in the theatre. These seats are typically in the centre of rows. | Seats 7-27 of Row A fall under this price, as they are the best seats in the Circle. There are no restrictions from safety rails, and you get brilliant overall views of the stage. |
| £36.00 | The majority of the Stalls falls under this price, as they are good views throughout. Rows CC-R are predominantly this price, and it is best to sit centrally. | Rows A-G fall under this price, as they give very good overall views of the entire stage. It is best to sit centrally. |
| £31.00 | These seats can be found in rows R-T. Located toward the rear of the Stalls, you can see most of the stage, but the Circle overhang may slightly obstruct the view. | Situated in rows H-N, these seats are in the centre of the Circle and give good views of the stage. |
| £25.00 | Rows T-U are this price, as they are toward the rear of the Stalls and the Circle overhang can obstruct the view. | These seats are toward the rear in rows M-Q and give decent, but distant, views of the stage. Further seats at this price are in Row AA, which are side-angled toward the stage. |
| £15.00 | Row V falls under this price, as it is the row at the very back of the Stalls. Seats are raised higher than normal theatre seats, with no armrests. The Circle overhang can be very restrictive. Seats at the ends of Row U are also this price, as they are restricted view. | Seats at this price are dotted throughout the Circle, mostly toward the rear of the seating in rows P-S. These are slightly restricted by the ceiling and are distant from the stage. Other seats at this price are dotted throughout the Circle, toward the ends of rows and behind restrictive safety rails. |
Venue Address
Regent Theatre, Piccadilly, Stoke-on-Trent ST1 1AP
Venue Map