After last touring the country in 2012, Legally Blonde the Musical returns in a glittering new production directed and choreographed by Anthony Williams. Stopping at all of the UK's major venues, the musical comedy has previously lit up Broadway and the West End, earning Tony and Olivier Awards on the way. Now, the show returns in a brand new, vibrant tour starring X Factor contestant and Eurovision hopeful Lucie Jones as sorority sister Elle Woods. Based on Amanda Brown's novel and the 2001 rom-com of the same name, this is the ultimate tribute to believing in yourself!
Elle Woods has her future all planned out; she's going to marry her heartthrob boyfriend and become a real society girl. But as she preps for a proposal, her dreams are dashed when Warner Huntington III reveals that he is going to leave her to start a more serious future at Harvard. Upset at being dumped, Elle vows to win back her man – even if it means getting into Harvard herself. A story about friendship, love and staying true to yourself, Elle discovers that she has more potential than she ever knew!
With a sensational score including "Omigod You Guys", "So Much Better" and "Bend and Snap", the dazzling musical is packed full of girl-power, fun and a whole lot of pink! Starring Lucie Jones (The Wedding Singer, Rent) as Elle Woods, the production also features EastEnders' Rita Simons as Paulette and Emmerdale's Bill Ward as Professor Callahan. Led by director Anthony Williams (Little Shop of Horrors, Hairspray), Legally Blonde the Musical plays a strictly limited number of performances at the New Alexandra Theatre, Birmingham.
Dates
Monday 21st May 2018 – 7:30pm
Tuesday 22nd May 2018 – 7:30pm
Wednesday 23rd May 2018 – 2:30pm & 7:30pm
Thursday 24th May 2018 – 7:30pm
Friday 25th May 2018 – 7:30pm
Saturday 26th May 2018 – 2:30pm & 7:30pm
Seating Plan and Ticket Prices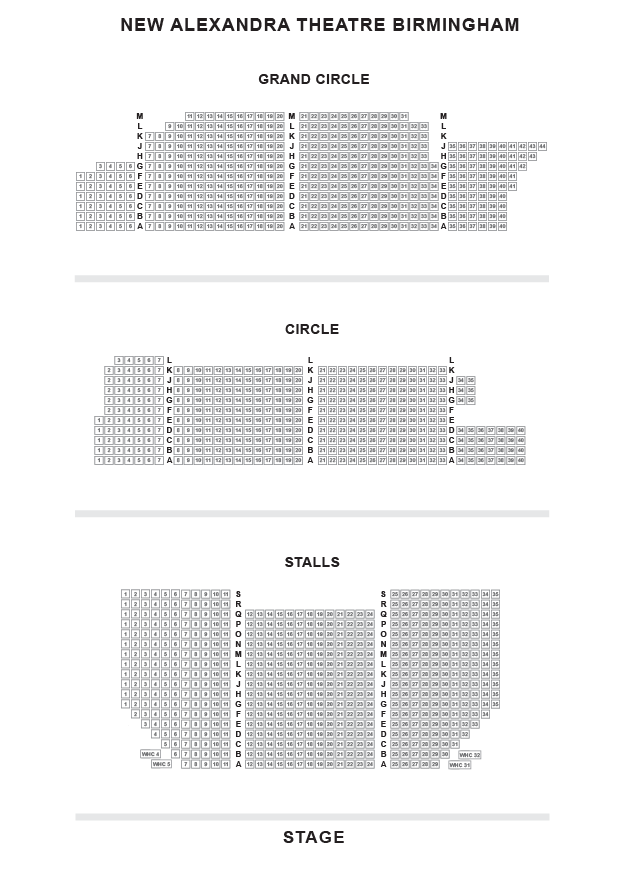 Please note that prices change depending on the date and time of the performance.
| | | | |
| --- | --- | --- | --- |
| Ticket Price | Stalls | Dress Circle | Grand Circle |
| £55.00 | Seats in the centre of rows B-F are this price, as they offer the best views in the theatre. Sitting centrally, you can see the entire stage without any restrictions. | Not available. | Not available. |
| £47.00 | Not available. | The centre of Row A and B are this price, as they offer the best views in the section. These seats are central, allowing for a panoramic view of the entire stage, without any restrictions. These seats are a good option for large-scale musicals. | Not available. |
| £40.00 | Most seats in the Stalls are this price, as views are good throughout the section, with minor restrictions. | The majority of the Dress Circle falls under this price category, as views are good and clear, with minimal restrictions. It is best to sit as centrally as possible. | Not available. |
| £35.00 | Rows S-T are this price, as although they offer a good view, seats are partially restricted by the Dress Circle overhang. Seats at the ends of rows B-G are also this price, as they offer side-angled views. | Three seats at either end of rows A-B are this price, as they are restricted view with limited legroom. | Seats in the centre of rows C-H are this price, as they offer the best overall views in the Grand Circle. There are no restrictions, although the stage may feel distant. |
| £25.00 | Not available. | Not available. | Seats in rows C-K are this price, as the Grand Circle seems very distant from the stage. It is best to sit as centrally as possible. |
| £15.00 | Not available. | Not available. | Rows L-M are this price, as they are furthest from the stage and are restricted by the theatre ceiling. Seats at the ends of rows C-J are this price, as they are partially restricted view, whilst rows A-B fall under this price due to restrictions from safety rails. |
Venue Address
New Alexandra Theatre, Suffolk Street Queensway, Birmingham B5 4DS
Venue Map