Prepare to bend and snap as a glittering new production of Legally Blonde the Musical struts its stuff into the Liverpool Empire! Stopping at the UK's biggest venues as part of a sparkling tour, the musical comedy plays a limited number of performances, starring Eurovision and The X Factor's Lucie Jones as the iconic Elle Woods. Adapted from Amanda Brown's original novel and the ever-popular rom-com with Reese Witherspoon, Legally Blonde is the ultimate tale of girl-power and believing in yourself.
Following pink-clad sorority sister Elle Woods, the story sees her preparing to be proposed to by her heartthrob boyfriend, Warner Huntington III. But when the evening goes awry, and he announces that he's leaving for Harvard without her, Elle is distraught. Determined to get her man back, she will to go to any lengths – but she never quite realises what she will achieve! Featuring a sassy score, including "Omigod You Guys", "So Much Better" and "Bend and Snap", this sensational musical is guaranteed to have audiences dancing in their seats.
Premiering on Broadway, before transferring to the West End, this multi-award winning musical previously enjoyed a 2012 UK tour, starring Faye Brooks. With new direction and choreography by Anthony Williams (Hairspray, Little Shop of Horrors), this production stars Lucie Jones as Elle Woods, opposite EastEnders' Rita Simons as Paulette and Emmerdale's Bill Ward as Professor Callahan.
A bright, colourful musical packed with girl-power and memorable music, Legally Blonde the Musical is sure to lift spirits and instil plenty of self-love!
Dates
Monday 4th June 2018 – 7:30pm
Tuesday 5th June 2018 – 7:30pm
Wednesday 6th June 2018 – 2:30pm & 7:30pm
Thursday 7th June 2018 – 7:30pm
Friday 8th June 2018 – 7:30pm
Saturday 9th June 2018 – 2:30pm & 7:30pm
Seating Plan and Ticket Prices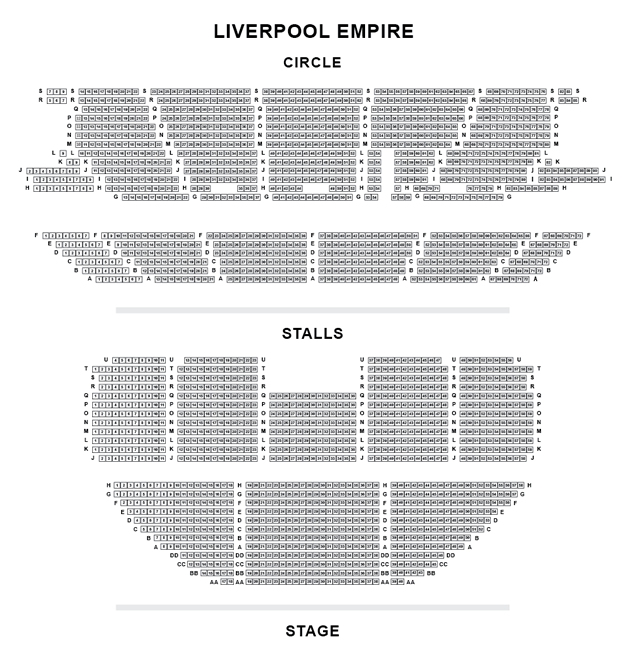 Please note that prices change depending on the date and time of the performance.
| | | |
| --- | --- | --- |
| Ticket Price | Stalls | Circle |
| £52.50 | Seats 19-38 of Row CC and D are this price, as they offer the best experiences in the theatre. Opt for these seats to feel fully immersed in the show. | Not available. |
| £43.00 – £45.50 | Row J seats 18-42 and Row L seats 12-36 are this price, as they are central to the stage and the views are excellent. Seats in the centre of Row A and DD are also this price, as they offer the best views in the theatre. They are central, unrestricted and are close enough to experience detail. | Seats 24-49 of Row B are this price, as they are the best seats in the section. They give a clear, uninterrupted view of the entire stage, without any restrictions from safety rails. |
| £37.50 – £40.00 | The majority of seats in the front of the Stalls are this price, from rows AA-M. Sit anywhere for a great overall view of the stage, although it is recommended to sit as centrally as possible. Those who want a more panoramic view of the stage should opt for rows E-H. | The centre of Row G is this price, as there is a decent aisle in front of the seats and the view of the stage is good, due to a decent rake in the seating. Other seats at this price are in the front of the Circle, in the centre of rows A-D. These seats are the best option in the Circle as they give clear, unobstructed views of the entire stage. |
| £32.50 – £35.00 | Most seats at the rear of the Stalls are this price, in rows J-S. Although the Circle overhang is not technically obstructive, it may hinder the view for some. These are good options although can feel distant from the stage. | Centre seats toward the mid-front of the Circle, in rows C-F and H-K are this price, as they offer decent views of the entire stage due to a good rake, although it is best to sit as centrally as possible. |
| £25.00 | Rows T-U are this price, as they are toward the rear of the Stalls and are obstructed by the Circle overhang. Seats at the ends of rows J-S are also this price, as they offer slightly restricted views of the stage. | The majority of the seats in the Circle are this price, from rows G-R, as the stage is distant but there are still good views. It is best to sit as centrally as possible. |
| £12.00 | Seats at the very ends of rows A-H fall in this price category, as they are restricted view and some of the stage is cut off from here. | Rows R-S fall under this price, as they are at the rear of the theatre and are restricted view, due to the ceiling overhang and being distant from the stage. Seats in the side blocks of rows A-F and H-L are also this price, as they are restricted view due to being side-angled toward the stage. |
Venue Address
Liverpool Empire, Lime Street, Merseyside, Liverpool L1 1JE
Venue Map