Lucie Jones dons the iconic blonde wig and pink shoes as Elle Woods returns in a brand new, dazzling UK tour of the multi-award winning Legally Blonde the Musical. After stints on Broadway and in the West End that earned multiple Tony and Olivier Awards, the musical has enjoyed success touring across the UK, previously starring Faye Brooks. Now, Anthony Williams presents a glittering new production, based on Amanda Brown's hit novel and the classic 2001 rom-com, featuring Reese Witherspoon.
Taking place in America, Legally Blonde the Musical is the uplifting tale about friendship, love and believing in yourself. Following sorority president Elle Woods, the story sees her prepping for a proposal from heartthrob boyfriend, Warner Huntington III. But at dinner, Warner reveals that he wants to get serious and is leaving for Harvard – without Elle.
Distraught at being dumped, Elle is forced to rally her spirits and is determined to go to any lengths to win back her man. What she never bargained for is that she has more brains and talent than she ever knew! Featuring a stellar score, including smash-hits "Omigod You Guys", "So Much Better" and "Bend and Snap", this girl-power musical is bound to have audiences dancing in their seats.
Well-known for representing the country in the 2017 Eurovision Song Contest, Lucie Jones stars as Elle Woods, having previously featured in tours of The Wedding Singer and Rent. EastEnders' Rita Simons also stars as Paulette, opposite Emmerdale's Bill Ward as Professor Callahan. Directed and choreographed by Anthony Williams (Little Shop of Horrors, Hairspray), the bright pink extravaganza struts into King's Theatre, Glasgow, for a limited week of performances. Prepare to bend and snap!
Dates
Monday 23rd April 2018 – 7:30pm
Tuesday 24th April 2018 – 7:30pm
Wednesday 25th April 2018 – 2:30pm & 7:30pm
Thursday 26th April 2018 – 7:30pm
Friday 27h April 2018 – 7:30pm
Saturday 28th April 2018 – 2:30pm & 7:30pm
Seating Plan and Ticket Prices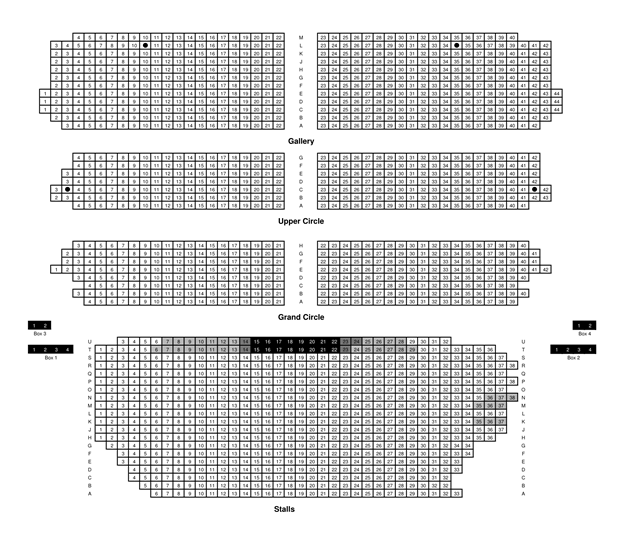 Please note that prices change depending on the date and time of the performance.
| | | | | |
| --- | --- | --- | --- | --- |
| Ticket Price | Stalls | Grand Circle | Upper Circle | Gallery |
| £52.50 – £55.00 | Not available. | Centre seats in Row A are this price, as they are offer the best views in the Grand Circle. These seats are good for large-scale musicals. | Not available. | Not available. |
| £42.50 – £46.00 | Seats in the centre of rows D-G are this price, as they offer the best views in the Stalls. They are central with no restrictions. | Seats in the centre of rows B-D are this price, as they offer very good views of the stage, with a decent rake ensuring no obstruction. | Not available. | Not available. |
| £37.50 – £40.00 | Most seats in the Stalls fall under this price, as they offer clear, unobstructed views of the entire stage. It is best to sit centrally. | The majority of seats in this section are this price, as they offer good overall views of the entire stage, without any restrictions. | Not available. | Not available. |
| £32.50 – £35.00 | Seats toward the rear of the Stalls in rows P-U are this price, as although they offer good views, there is restriction from the Grand Circle overhang. | Not available. | Seats in the centre of rows A-D are this price, as they offer the best overall views in the section. | Not available. |
| £25.00 | Not available. | Not available. | Most seats in the Upper Circle are this price, toward the ends of rows and the rear of the section. They offer decent views of the stage. | Seats at this price are located in the centre of rows B-E. These are the best seats in the section. |
| £15.00 | Not available. | Not available. | Row G is this price, as it is the rear of the section and restricted by the Gallery overhang. Seats at the ends of Row B and C are also this price, as they are restricted by a handrail. | The majority of seats in the Gallery are this price, as the section is steep and restricted by safety rails. The stage seems very distant from here. |
Venue Address
King's Theatre, 297 Bath Street, Glasgow, G2 4JN
Venue Map